Adjustable roof mounting system
PRODUCTSDETAILBENEFITS Installsite:FlatTinRoof,OpenFieldModuleAngle:10to60degBuildingHeight:Upto65ft(20m)MaxWindSpeed:60m/sSnowLoad:1.4KN/m2Standard:AS/NZS1170andotherinternationalStandardMaterial:Al6005-T5&Stainlesssteel304Color:NaturalorCustomizedAnti-corrosive:anodizedaluminum&stainlesssteel304Warranty:10yearswarrantyand20yearsservicelifeTECHNICALINFORMATION EmperySolarAdjustableLegMountingSystemisdesignedfortheharshestenvironmentsonflatroofsorontheground.Thesystemisquickandeasytoinstall,andallowssolarpanelstobeinstalledintheangleranges10to15degrees,15to30degreesand30to60degrees.Tosimplifyinstallation,componentscanbepre-assembledbeforedeliverytosite.EasytoinstallThetilt-inmodulecanbeputintotheextrudedrailfromanylocationandcanbepre-assemblywiththeclampandroofhooktominimizethetimeandcost.Offerunmatcheddurabilitywithallstructuralcomponentscomprisedofhighclassstainlesssteelandanodizedaluminumalloy,itisdesignedfortwentyyearsservicelifeandbackedbytenyearswarranty.StanduptoextremeweatherEmperySolaradjustabletiledroofrackingsystemisdesignedtostanduptotheextremeweathercompliedwiththeAS/NZ1170andotherinternationalstructureloadstandardbytheskilledengineer.Themainsupportcomponentsalsohavebeentesttoguaranteeitsstructureandload-carryingcapacity.ProvidebroadinstallationflexibilityThesesystemsaccommodatemostcommerciallyavailableframedsolarpanelsanddiverserooftypes,andtheycanscaleeasilyfromsmalltolarge,multi-megawattinstallations. PACKING&DELIVERY
Al6005-T5 Stainless steel 304
15 Years and up 20 years service life

Empery Solar Adjustable Leg Mounting System is designed for the harshest environments on flat roofs or on the ground. The system is quick and easy to install, and allows solar panels to be installed in the angle ranges 10 to 15 degrees, 15 to 30 degrees and 30 to 60 degrees.To simplify installation, components can be pre-assembled before delivery to site.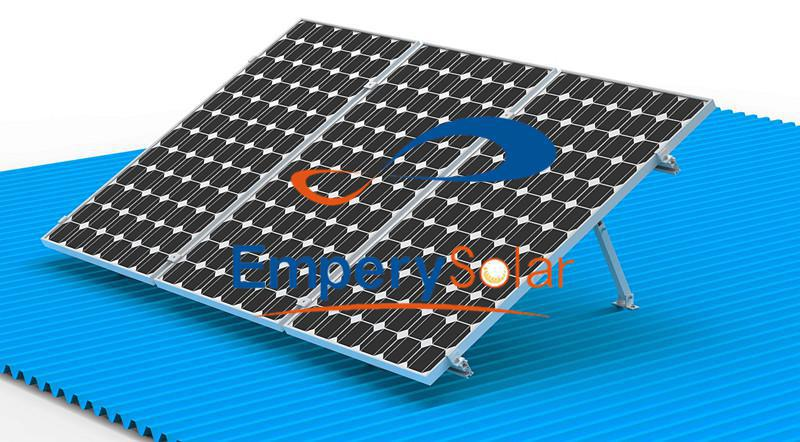 Install site: Flat Tin Roof,Open Field
Module Angle: 10 to 60 deg
Building Height: Up to 65ft (20 m)
Max Wind Speed: 60m/s
Snow Load :1.4KN/m2
Standard: AS/NZS 1170 and other international Standard
Material :Al6005-T5 & Stainless steel 304
Color :Natural or Customized
Anti-corrosive: anodized aluminum & stainless steel 304
Warranty :15 years warranty and 20 years service life

Easy to install
The tilt-in module can be put into the extruded rail from any location and can be pre-assembly with the clamp and roof hook to minimize the time and cost .
Offer unmatched durability
with all structural components comprised of high class stainless steel and anodized aluminum alloy, it is designed for twenty years service life and backed by ten years warranty.
Stand up to extreme weather
Empery Solar adjustable tiled roof racking system is designed to stand up to the extreme weather complied with the AS/NZ 1170 and other international structure load standard by the skilled engineer. The main support components also have been test to guarantee its structure and load-carrying capacity.
Provide broad installation flexibility
These systems accommodate most commercially available framed solar panels and diverse roof types, and they can scale easily from small to large, multi-megawatt installations.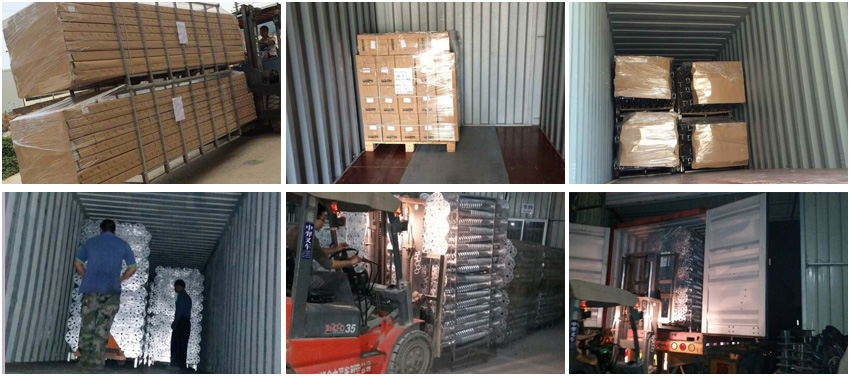 We could not find any corresponding parameters, please add them to the properties table
Professional supplier of high-quality photovoltaic installation system in China
Page Copyright © 2022 Xiamen Empery Solar Technology Co., Ltd